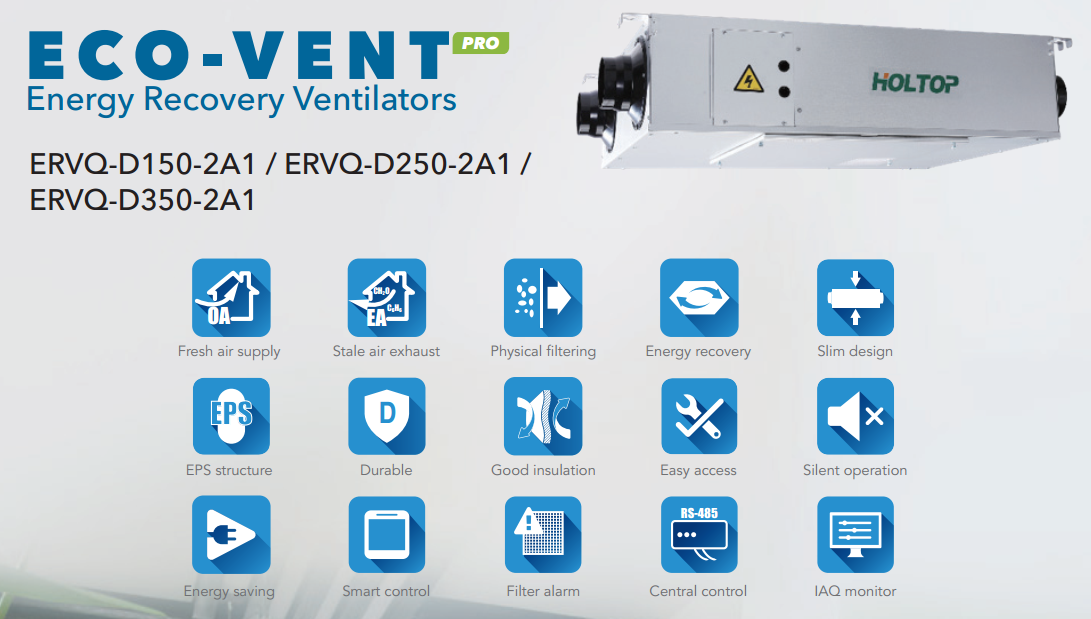 Durable appearance design

Anti-corrosive, beautiful, durable
Excellent anti-corrosion performance
Metallic texture

EPS Structure

Integrated EPS for good insulation and air tightness.
No condensation.
Light weight, heat preserve, silent, environmental
friendly, no odor
EPS is a high polymer material widely used for building
insulation, floor heating, refrigeration, industrial casting
and other industries.

Supper slim body design
Eco-vent pro ventilators are designed specially for the projects which have very strict ventilator height requirement, compared with the traditional congeneric products, ECO Vent Pro ERV's height is 20% off. Access door is at the bottom so maintenance is much easier.
New primary filter
New primary filter is made of aluminium alloy frame and
rubber filtration materials with nicer appearance and
longer service life.
Sub-HEPA F9 Filter integrated optional Optional sub HEPA F9 filter, particle diameter under 2.5μm can be filtered effectively, IAQ (indoor air quality) will be
increased obviously.
High efficiency temperature and humdity recovery Holtop crossflow heat exchanger is built in the full ecovent pro series ERV, heat recovery efficiency up to 82% in winter, the allowance of moisture exchange between fresh air and exhaust air make a comfortable indoor temperature and humidity. 


Specification:
Model
Fan Speed
Airflow
(m3/h)
External
pressure
(Pa)
Enthalpy Efficiency(%)
Temperature Efficiency (%)
Noise
dB(A)
Current
(A)
Input
power
(W)
Voltage (V)
N. W.
(Kg)
Summer
Winter
ERVQ-D150-2A1
L
120
45
61
75
82
23
0.45
93
220
29
M
150
70
59
73
80
31
0.46
98
H
150
90
59
73
80
31.5
0.47
102
ERVQ-D250-2A1
L
210
35
57
70
75
26.5
0.58
123
220
32
M
250
50
55
68
73
33.5
0.6
148
H
250
100
55
68
73
34
0.71
150
ERVQ-D350-2A1
L
240
40
62
73
81
31
0.97
209
220
42
M
350
110
57
68
76
36.5
1.05
230
H
350
130
57
68
76
37
1.07
233
The ceiling fresh air purification energy recovery ventilator is an air energy recovery and purification ventilation device. It is composed of fresh air fan, exhaust fan, total heat exchanger, fresh air primary filter, fresh air high efficiency filter (PM2.5), return air primary filter and so on.
Fresh air ventilation function: When the product is running, the treated fresh air is continuously delivered to the room through the air inlet, and the dirty air in the room is discharged at the same time, so as to improve the indoor air quality.
Fresh air purification function: Fresh air entering the room can effectively remove impurities (dust, floc, etc.) in the air and PM2.5 particles which is  harmful to the human body after double purification of the primary filter and the high-efficiency filter.
Energy recovery function: Use the total heat exchanger to effectively recover the temperature and humidity energy in the exhaust air, and return it to the supply air to achieve the purpose of reducing energy loss.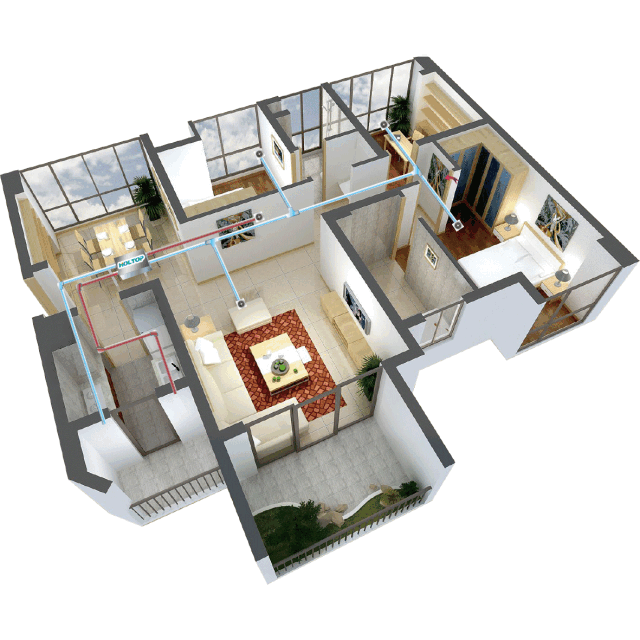 ---
Eco-Smart Pro Series Residential Heat Energy Recovery Ventilators (150~350 m3/h) Related Video: